If you need an easy to use camping tent for families with kids or for groups of friends, this selection of best 8 person instant tents is the right place. So keep reading.
These are all instant cabin tents, so you have pleasant constructions with steep and tall walls and with lots of volume inside. Numerous windows on the walls allow for views around. This is why the tents are with a minimal fly for unobstructed views.
With such a shape and features, these tents are best suited for summer camping or for the warmer part of the year in general, and also for quiet weather conditions. They are large, but their instant setup design makes them incredibly easy to use. One person can easily set such a tent up in just a couple of minutes.
---
My list of best instant tents for 8 people
So here is the list of tents ordered by the floor area from smaller to larger:
This text contains affiliate links of Amazon and other sellers, we may earn some commission from qualifying purchases at no additional cost to you.
---
1. Gazelle 26800 T4-Plus Pop-Up Portable Camping Hub Tent
This is a very specific type of instant tents with a design unique to this brand. You have pop-out and pop-up walls and the ceiling. This implies that the poles are integrated in the tent structure and you practically do not see them. They create those X-shaped structures on the sides. So you push the walls from inside, and this is done in a minute or two. The official setup time is 90 seconds.
The structure is a 2-room cabin, very tall with its 78 inches (198 cm) peak height, and it is not freestanding. The bathtub floor is removable, there are Velcro tabs all the way around the perimeter. The picture shows the skirt along the perimeter that goes around to prevent the tent from splashes.
The tent is officially for 8 people and for this you have 110 ft² (10.2 m²). The manufacturer describes it as a 3-season tent, in my view it is best suited for two seasons in the warmer part of the year. The tent packs to 63 x 11 x 11 inches (160 x 28 x 28 cm), so it is quite long when folded, and the weight is 47 lb (21.3 kg). This tent is also in my list of best instant camp tents.
What I like:
Very unique design.
Many windows.
Storage pouches.
Very tall and pleasant tent.
The front room is a screen room.
---
2. NTK Flash 8 Instant Cabin Camping Tent
This is a very tall tent with the peak height of 6.7 ft (204 cm). As you realize from the picture, this is a very typical cabin-style structure and you have 5 windows. There is one door only, so this is not optimal for the tent that measures 13 x 9 ft (396 x 274 cm). The floor area is 117 ft² (10.8 m²).
The tent offers an awning configuration shown in the picture, the poles for this purpose are included. The steel frame is pre-attached to the tent and this includes 4 legs and 4 roof poles with a top hub. There are also two roof poles on the front and the back. The legs are telescopic, so they extend easily and then lock at the prescribed length.
The fly and the walls are a polyester ripstop with a 2500 mm waterproof rating due to a laminated polyurethane coating. The seams are heat-sealed. They also claim that the fabric satisfies the CPAI-84 fire-retardant criteria. The floor is a heavy-duty anti-fungus polyethylene with a bathtub design.
The weight is 28.65 lb (13 kg) and the packed size is 45.5 x 11.1 x 10.5 inches (116 x 28 x 27 cm).
What I like:
Tall
Pleasant.
Great awning.
---
3. Coleman 8 Person Instant Camping Tent
This tent is with 6 telescopic legs poles and they together with the roof poles are pre-attached to the tent. So this is an instant setup tent in the true sense, but what makes it incredibly easy to use is also the fact that this is a single-layer tent. In other words, everything that you see in the picture is a single piece. The top is practically an integrated fly.
As you realize, this is a cabin-type tent with its straight and steep walls and its peak height is 77 inches (1.96 m). There are 2 doors and 2 rooms, and multiple windows are double-layer type with mesh and zippered panels. The tent is fully freestanding so you can move it short distances after you raise it from the ground.
You have a floor area of 140 ft² (12.9 m²) and the weight is 36.3 lb (16.5 kg), so it is heavy but this is typical for such large instant tents. Note that the frame is steel and the leg poles are 16 mm diameter, while the roof poles are 12 mm.
This is an incredibly popular tent, one of bestsellers on Amazon, and it is incredibly affordable. If it is too big, they have also smaller versions built in the same style.
What I like:
Easy to use.
Tall tent.
Freestanding.
Affordable.
---
4. Outdoor Products 8 Person Instant Hexagon Tent with Built-in Lights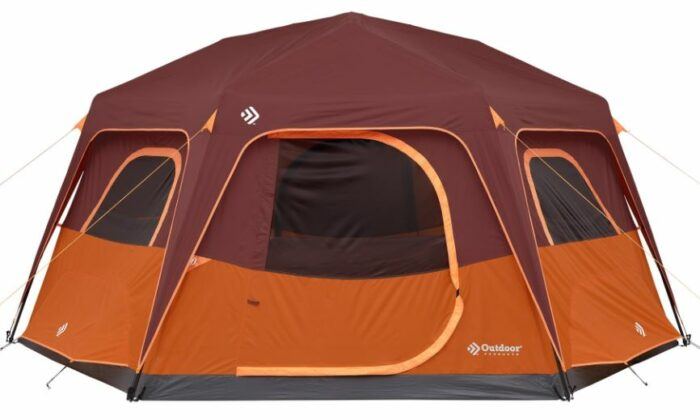 As you realize from the title, this is a very interesting tent with respect to its shape and also due to the fact that it comes with built-in lights. With such a shape this is a fully freestanding cabin with windows everywhere. It has a minimal fly that attaches at the corners.
The tent is ventilated, it has two large floor vents, so this in combination with its mesh ceiling and mesh windows makes it very pleasant and suitable for warm weather camping. It is here because of its instant setup, you can pitch it in a couple of minutes.
The mentioned lights operate on 4 D batteries and it has three modes, low, medium, and high. You also have an E-cable port.
Here are some numbers. The weight is 41.4 lb (18.8 kg) and the area is 146 ft² (13.56 m²). Overall dimensions are 15 x 13 ft (457 x 396 cm). The tent is tall and its peak height is 80 inches (203 cm). The packed size is 42.1 x 12.1 x 11.8 inches (107 x 31 x 30 cm).
What I like:
Lighted.
Freestanding.
It looks great.
---
Final thoughts
So this was my collection of best 8 person instant tents, and you realize that they are all very different, and this is on purpose. Their instant setup is the common feature, but each of them offers something extra. I have decided to put forward as my choice the tent shown below:
Editor's Choice tent
You have already seen the most important features of this Coleman 8 Person Instant Camping Tent. It is hard to find any that would be easier to pitch. Note also that they sell a fly that you can put above, but indeed it is not needed. Here is the summary of my rating.
Incredibly easy to use instant tent
Product Name: Coleman 8 Person Instant Camping Tent
Product Description: This tent has been on the market for several years already, enormously popular and highly rated, with all the good reasons.
Brand: Coleman
SKU: B07FNZWHV7
MPN: 2000005512
Features -

9.2/10

Design -

9.4/10

Quality & craftsmanship -

9/10
Summary
I rate this tent high and this is for all the good reasons.
In the video below you can see how easy it is to set this tent up:
Here you can see a bit more about testing and other features:
Let me know if you have any questions or comments. For more options please check under the category Outdoor Shelters. Thank you for reading and have a nice day.